Hotel luxury wall mounted smart mirror LED Vanity bathroom mirror YJ-2102
Product Detail
Product Tags
Basis Function

Size(in)

Weight(lb)

Power(W)

Lumen(lm)

Input Voltage(V)

CRI

IP

LED Life Span

Warranty

Certification

Touch Switch
Dimming

20*28

14

31

1504

85-265

≥80

54

50000 ours ,a steady decline

5 years

 

Touch Switch
Dimming

24*32

19

37

1792

85-265

≥80

54

50000 ours , a steady decline

5 years

 

Touch Switch
Dimming

28*36

23

42

2080

85-265

≥80

54

50000hours ,a steady decline

5 years

 

Touch Switch
Dimming

32*40

28

47

2368

85-265

≥80

54

50000hours ,a steady decline

5 years

 

Touch Switch
Dimming

36*44

34

52

2656

85-265

≥80

54

50000hours ,a steady decline

5 years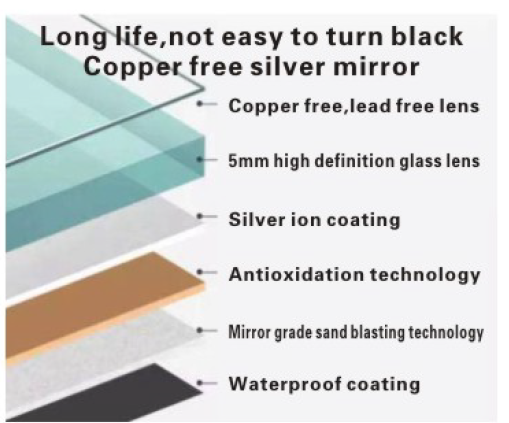 ● Model :YJ-2102
● Warranty :50000 hours warranty
● Dimensions: 500*700mm/600*800mm /700*900mm/800*1000mm/900*1100mm
● Aluminium back closed
● Input Voltage :95V-265v /12V
● Strip : 2835
Waterproof
Adopt high brightness, energy saving, waterproof imported LED strip light
Preferred LED chip, high color rendering, no strobe, low light decay, durable. Waterproof, leak-proof, so that the intelligent more at ease.
Professional customization
Size / function / shape / logo can be customized
Factory direct, customization is simple, set a mirror of your choice. Only you can not think of what we can not do.
Temperature-controlled defogging
Mirror surface defogging technology, designed for the bathroom environment can not be timely damp design, reduce fog interference, dressing without distraction
Explosion-proof
Mirror surface even under the impact of external forces will not spill, Eppler sales of each mirror are processed by a high-viscosity explosion-proof film.
No blackening
EU standard - no copper HD silver mirror
With silver nitrate as coating, not easy to oxidation, not easy to rust. Non-blackening copper-free mirror is more durable and healthy.
Bluetooth
The 360° sound experience is beyond imagination
360 ° omnidirectional sound technology are to ensure its sound balanced diffusion. Hidden Bluetooth, so that the mirror is more simple.
Time/Temperature
One-piece time/temperature display
We use the LED digital display, mirror only display numbers. It is always on when the power is on.
1.Modern Fashion, Durable, Easy to Clean, Rust Free, Waterproof, Eco-friendly 
2.Alu frame
3.Rich experience in manufacturing and export business
Customer Service
Free printing and pasting color LOGO and label for customers' packaging .









---
Previous:
Modern home no frame square backlit led lighted bathroom mirror decorative bath wall mirror
---